Welcome to Schleswig Iowa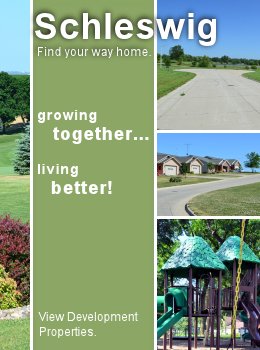 The German heritage in Schleswig can be seen in the designs of the buildings on Main Street, through the music and attire of the Schleswig German Band, and as well as in the work ethic and friendly nature of Schleswig residents.
A commitment to the community is demonstrated by the Schleswig Volunteer Fire Department. It was established over 100 years ago, boasts 25 members, and 3 fire trucks as well as Emergency Medical Technicians equipped with modern Emergency Medical equipment.
Schleswig boasts an active Community Calendar including meetings for several service organizations and local government. The calendar is highlighted with unique celebrations and other activities. As an example, in September, Schleswig residents host the annual Calf Show Days which attracts visitors from all over.
Take advantage of the swimming pool to cool off on a hot day or play basketball on one of the local courts. Enjoy time at the gym, located at the Schleswig school, opened to the community for weight lifting, basketball, volleyball, and walking. Have a picnic in one of the parks and bring the kids so they can enjoy some time on the playground equipment. Take pleasure in a stroll on the walking trail then, if you have time, visit the Arboretum. Area camping is available as well as a 9 hole golf course where several tournaments are held each summer. Activities such as 4-H, Youth Rec, and Community Club are available to residents.
Schleswig welcomes visitors, and it won't be long before you feel at home.